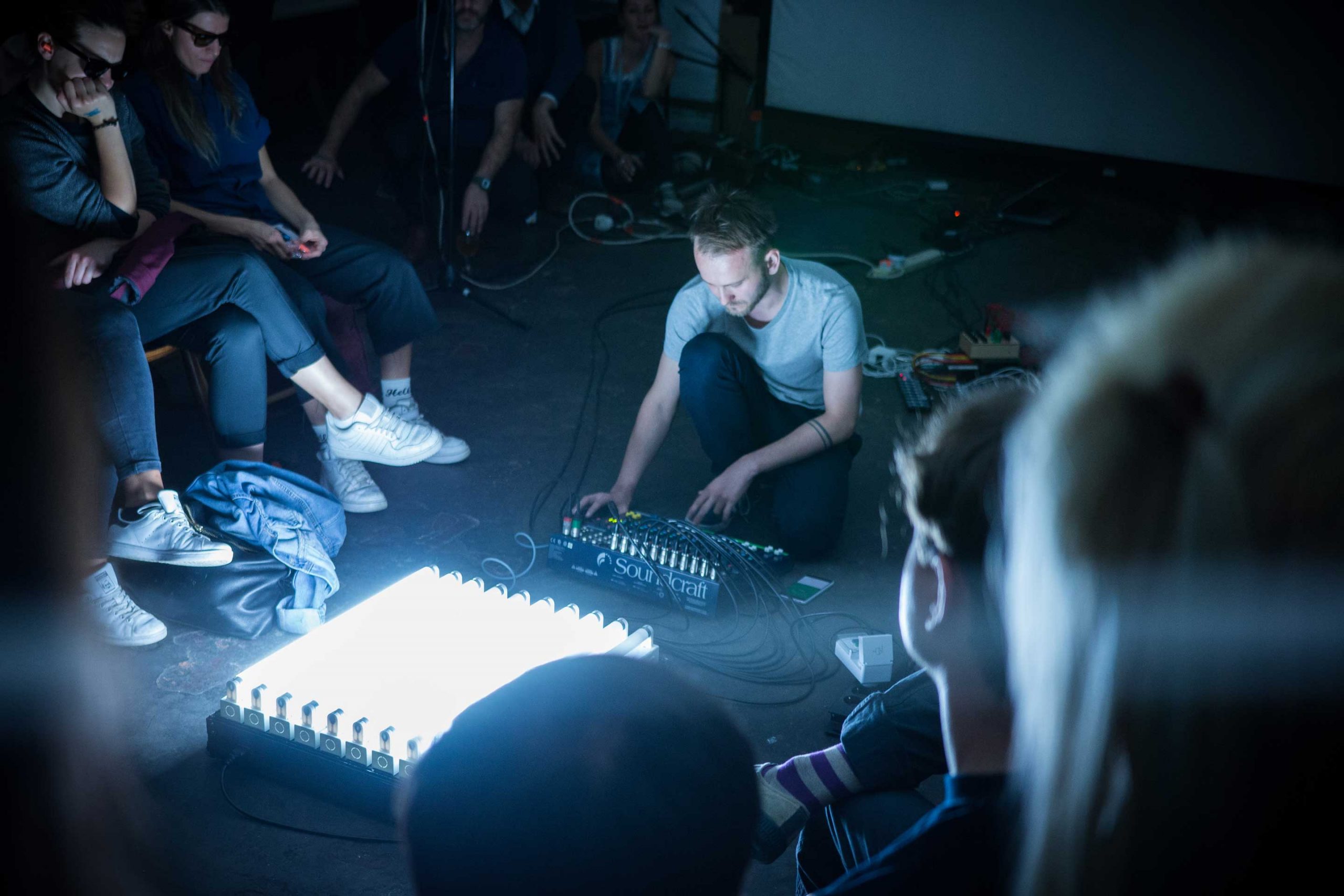 18W T8 G13 865
AFTER ITS PREMIERE, YOU CAN FIND THIS CONTENT ON PERFORMANCES CATEGORY
F 18W T8 G13 865 is a highly concentrated audio visual performance with a self built instrument. Through a digital interface via software, Arduino and relays, fluorescent tubes are turned on and off controlled by the performer. Only the sound and noise produced by the tubes itself are recorded and (without manipulation) amplified. The high pitch sounds from the starters, the low hum from the ballast. What you see is what you hear, and what you hear is what you see. When the tubes are turned off, the
performance is finished. Unconscious Archives Festival 2017, photo Ollie Paxton
Dawid Liftinger (AT)
Born 1986, in Austria, currently based in Cologne / Germany. In my works I explore sensory and synaesthetic states through hand built electronics harnessing the essential properties of light and sound across installations and performances.
Since 2018 I cooperate with the Neue Musik Ensemble ElectronicID (EID) as a light sound artist and I am a co-founder of the curatorial soundart project radio433. I have shown my works, among other locations, at Ars Electronica Festival (Linz / Austria), Art and Exhibition Hall of the Federal Republic of Germany (Bonn / Germany), Austrian Cultural Forum (London / UK), Café OTO (London / UK ), 台北北數數位藝中⼼心 Digital Art Center (Taipei / Taiwan), 스페이스 오뉴월 GalleryO NewWall (Seoul / Korea) and Tehran Annual Digital Art Exhibition م حسن گا لری Mohsen Gallery (Tehran / Iran).