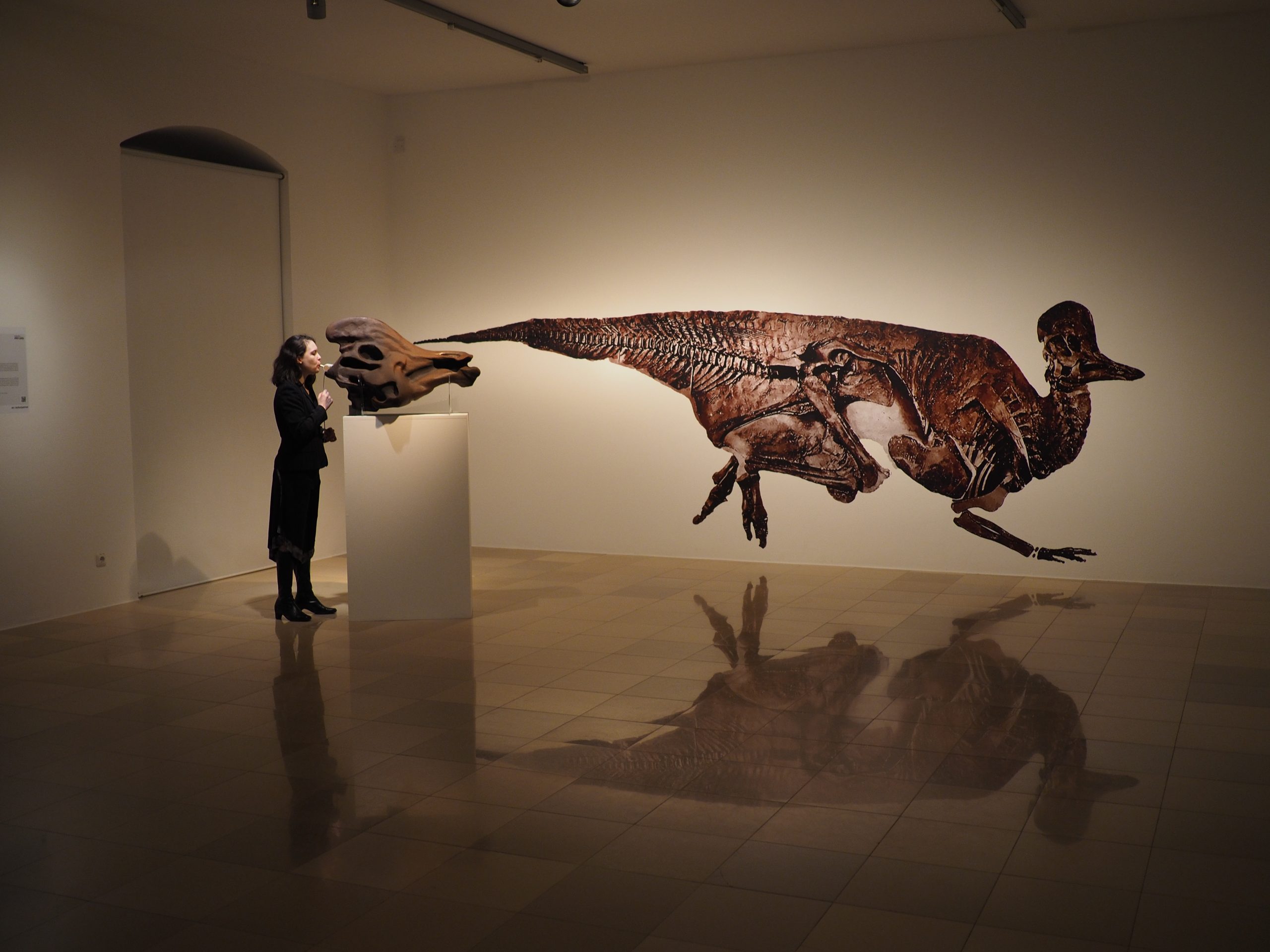 MUSIC : Hadrosaur Variations II | Courtney Brown
Hadrosaur Variations II is a work for hadrosaur skull instrument (Rawr!), soprano, and laptop. A Corythosaurus is a duck-billed dinosaur, a lambeosaurine hadrosaur that scientists hypothesize used its large head crest for sound resonation. Rawr! is a musical instrument created from a replica of a subadult Corythosaurus skull and nasal passages. CT scans of the fossil were provided by Witmer Labs, Ohio University and scientific research guided larynx creation. In Hadrosaur Variations II, Courtney Brown mimics the dinosaur with the soprano voice and vice versa. She became interested in coaxing melodies from the hadrosaur skull instrument because this was a challenging exercise. 
Rawr! was created by Courtney Brown and Sharif Razzaque. Garth Paine, Carlo Sammarco, Sallye Coyle, Brent Brimhall and Gordon Bergfors also contributed. This project was funded by Arizona State University GPSA.
Courtney Brown is a musician, software developer, and tango dancer. She creates new musical interfaces in which the act of creating sound is transformative in some way. Her work has been featured and performed in North America, Europe, and Asia including Ars Electronica (Austria), National Public Radio (NPR), Diapason Gallery (Brooklyn), CICA Museum (South Korea), New Interfaces for Musical Expression/BEAM Festival (London), International Computer Music Conference (South Korea), ACM Movement and Computing Conference (Italy), and the Telfair Museum (United States). Her new musical instrument, Rawr! A Study in Sonic Skulls received an Honorary Mention from the 2015 Prix Ars Electronica. She also received a Fulbright to Buenos Aires, for her project, Interactive Tango Milonga, creating interactive Argentine tango dance. She is an Assistant Professor at the Center of Creative Computation, Southern Methodist University. She received her D.M.A from Arizona State University and her M.A. in Electroacoustic Music from Dartmouth College.