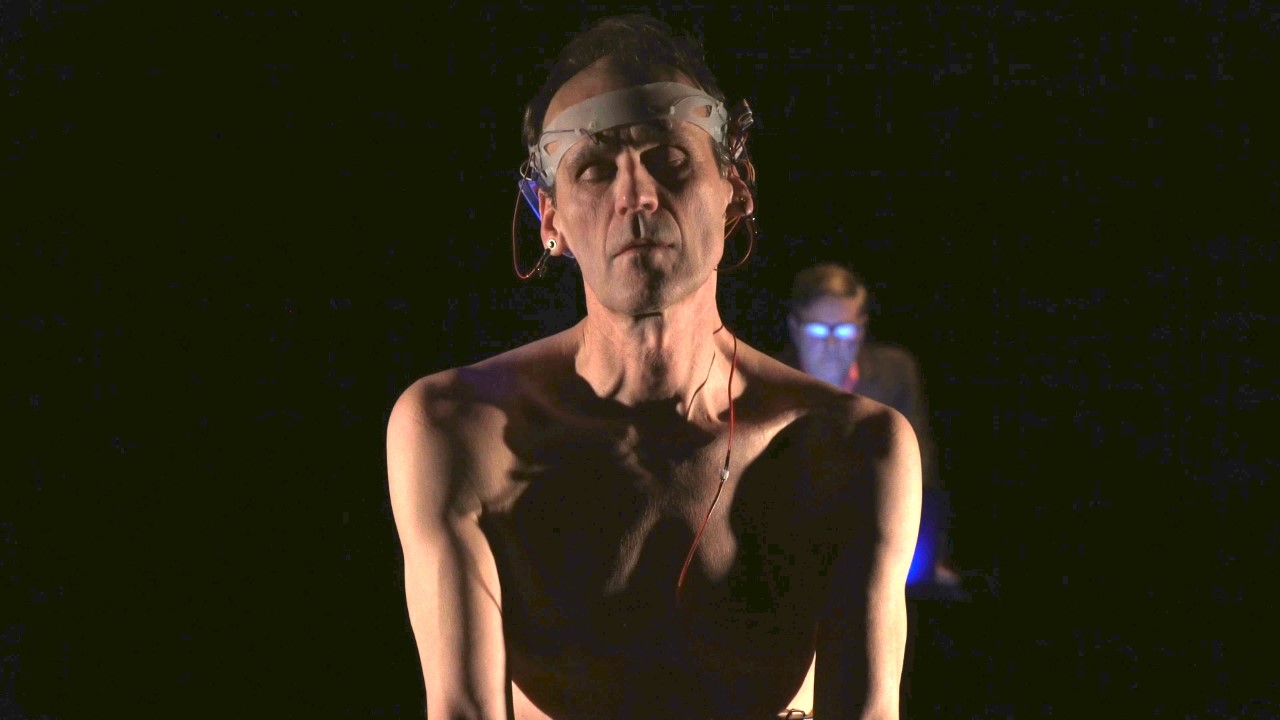 PERFORMANCE: Sound of mind and Body | Bill Coleman & Gordon Monahan
Sound of Mind and Body
This collaboration by Bill Coleman and Gordon Monahan uses concepts of human-to-computer
interfacing to manipulate and produce real-time music, sound and lighting, integrated with dance, body
performance and slapstick. An EEG interface worn by dancer-choreographer Coleman sends data to
several Max/MSP software patches in real-time. As Coleman shifts through various states of mental
and physical concentration and movement, he is able to produce and control alpha-brainwaves while
dancing. He uses these alpha waves in conjunction with Monahan's software manipulations, to
produce various responses in musical instruments such as piano and percussion, to control the fading
of stage lights, and to control sound spatialization and audio processing, all in real-time. Monahan
simultaneously controls several Max/MSP software patches on stage that harness Coleman's brain
signals to sculpt soundwaves, light, instrumental composition and kinetic actions into a progressively
layered multi-media artwork.
Historical note:
This piece follows in the tradition of brainwave music composition pioneered by Alvin Lucier, David
Rosenboom, Richard Teitelbaum, and others, beginning in the 1960s. In fact, the history of brainwaves
and sound reproduction dates back to 1928, when the British scientist Edgar Adrian (1889–1977) was
the first to successfully sonify human brainwaves (EEG) in laboratory experiments.
Gordon Monahan's works for piano, loudspeakers, video, kinetic sculpture, and computer-controlled sound
environments span various genres from avant-garde concert music to multi-media installation and sound art.
Since 1978, he has performed and exhibited at the Hamburger Bahnhof (Berlin), the Venice Bienale, the
Secession (Vienna), Haus der Kunst (Munich), Mak Museum (Vienna), The Kitchen (NY), the Walker Art Center
(Minneapolis), Merkin Hall (NY), and Massey Hall (Toronto). Monahan is the recipient of a 2013 Governor-
General's Award in Visual and Media Arts. The renowned composer John Cage once said, "At the piano, Gordon
Monahan produces sounds we haven't heard before."
Bill Coleman is a choreographer and performer. His choreographic work has been presented at the Tramway in
Glasgow, New York's Dance Theatre Workshop, Place Des Arts, Montreal, Alexandrinsky Theatre, St.
Petersburg, Russia and the Edinburgh Fringe Festival. Coleman's work has transcended traditional theatrical
settings to include mountain tops, rainforests, prairies and urban construction sites. He has created a bold
collection of large-scale, site-specific works, collaborating with diverse groups including WWII veterans,
Aboriginal communities, fishing villages, ranching towns and urban neighbourhoods. In 2018 he was awarded
the Walter Carsen Award for Artistic Achievement from the Canada Council.
Speaker
Bill Coleman & Gordon Monahan